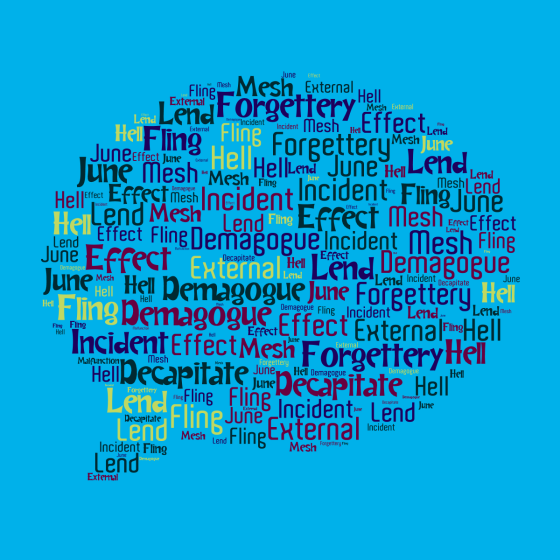 1. Incident
2. Lend
3. Forgettery ((n.) a faculty or facility for forgetting; faulty memory)
4. External
5. Mesh
6. Demagogue ((n.) a person, especially an orator or political leader, who gains power and popularity by arousing the emotions, passions, and prejudices of the people.)
7. Hell
8. Fling
9. Effect
10. June
11. Decapitate
12. I can't see the last word if you can let me know otherwise we will go with Pop
Use at least 10 of the words to create a story or poem
The words can appear in an alternate form
Use the words in any order that you like.
Tag: Mindlovemisery's Menagerie and Wordle
"What can you tell me of this…… incident? It seems as if you were hell bent on decapitating someone." Randy uses his newly found demagogue voice, fitting of the effect of his team leader position.
"Dude, we were flinging the kick balls in that external mesh cage. A few bounced out." I try lending reason to the conversation.
"Forgettery? Do you not know safety rules at Wally World?" Randy stands with both hands firmly planted on his hips. "It's not June! It's the Christmas rush…people are everywhere."
I ponder my need for seasonal employment.
Randy turns away.
I can't resist picking up one of the offending kickballs. I throw it and watch smiling as it pops him on the back of the head.